11 Jul

Duck River EMC anuncia su reunión anual de socios de 2017

Mark your calendar now for the Duck River Electric Membership Corporation Annual Membership Meeting on Saturday, August 19th, starting at 9:30 a.m. in the auditorium of Harris Middle School located at 570 Eagle Blvd., Shelbyville, Tenn.

Meeting registration begins at 8:30 a.m. The first 300 members who register will receive attendance gifts. In addition, several nice door prizes will be awarded to members at the conclusion of the business session.

Join us this year and learn about DREMC and how we serve our members. Listen to operationa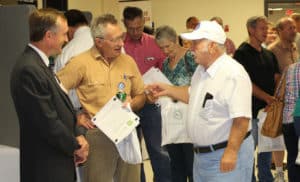 l reports and other presentations that support our cooperative mission to deliver reliable electricity at the lowest possible cost. Learn how DREMC is committed to enhancing economic development and quality of life for our members through improved services and innovative technologies. And you have an opportunity to meet your cooperative's board of directors and employees while visiting with many of your neighbors.
Those attending the meeting this year will have an opportunity to elect their representatives to serve on the DREMC Board of Directors as well. Those who have been nominated for election to serve three-year terms on the Board of Directors by the Nominating Committee are:
Zone 1: Coffee and Warren counties – Mike England
Zone 2: Franklin, Grundy and Marion counties – Philip Duncan
Zone 4: Bedford and Rutherford counties – Barry Cooper
Zone 6: Maury, Hickman, Lawrence, Lewis & Williamson counties – Anthony Kimbrough
Please remember that any member with special needs planning to attend the DREMC Annual Membership Meeting is asked to contact our Member Services Department at (931) 680-5881 prior to the meeting so that appropriate accommodations can be made.