The Field Services & Right-of-Way Teams
When it comes to sustaining the reliability and safety of the electric system, Duck River Electric's field services and right-of-way teams are essential. What these teams do each day helps to ensure that the lights stay on.
DREMC's field services team includes six individuals with specialized training: Bruce Butts, Casey Manderson, Jeremy Parker, Patrick Harden, Mark Brannon, and Mike Newman, who leads the team as the field services manager. The members of the field services team have previous work experience and educational backgrounds in industrial electricity, industrial maintenance, instrumentation, manufacturing, electronics, and other fields that have served helpful in maintaining DREMC's substations.
Together, they are responsible for maintaining 30 electric substations across the DREMC service area. In addition, this team also tests AMI meters and electric transformers regularly to ensure operational accuracy.
"A lot of our work occurs behind the scenes," said Newman. "When there is an issue inside a substation, the automated system goes into effect to keep the power on. Your lights may blink as our crew fixes the problem inside a substation, but most of the time, members never know we were there."
"Anytime we perform maintenance inside a substation, and the lights never blink, it's a good day at work for us," said Parker.
"When a substation transformer is down for maintenance, we bring in DREMC's mobile transformer to keep the power on so that members aren't without electricity," said Manderson.
Butts, senior equipment technician, compares what an electric substation does to the function of the electric breakers inside a home. "You have one main power source that brings electricity to the home, just as TVA delivers power to DREMC's substations," he said. "The substation functions much like the breaker box; it converts electricity into usable voltage for the home. Then you have the wiring throughout the home that delivers electricity to each room and all the outlets and switches. That's similar to how DREMC's distribution system uses power lines to deliver electricity throughout the service area."
Newman adds that routine inspections of each substation give Duck River Electric the edge in keeping things running smoothly and helps them to detect any potential issues early so that preventative maintenance can be performed.
"When a substation transformer is taken out of service for maintenance, we can bring in DREMC's mobile transformer unit to keep the power on so that members aren't without electricity," said Manderson.
DREMC's mobile substation is approximately 85 feet long, 10 feet wide, weighs 145,000 pounds, and is transported by a semi-truck and trailer to the various substations as needed.
"Some of our substations are located on backroads, which makes getting the mobile transformer into the station a little more challenging," said Harden.
"The mobile transformer is a crucial piece of equipment when taking a substation transformer offline for testing or maintenance and when equipment is damaged by storms," adds Newman. He said that during an outage where substation equipment is damaged, the field services team can temporarily install the mobile transformer within a few hours to restore power while they make repairs inside the station. This ability speeds power restoration that otherwise would take much longer and require lots of circuit switching and possibly even line construction to get electricity to some areas.
Before joining the field services team, Brannon, worked as DREMC's warehouse assistant and learned the various parts used for electric construction. Now responsible for testing all AMI meters and pole-mount transformers, he helps ensure the performance accuracy of these vital pieces of equipment to support the team's overall efforts.
Equally important to system reliability is the work of the right-of-way (ROW) team. Jermaine Bennett, Trey Watson, and Billy Smartt bring to DREMC a combined 50 years of experience in the field of overhead line maintenance. Together, they oversee the ROW clearing efforts of contracted right-of-way maintenance crews that work year-round in planning for and reducing electric line maintenance costs.
Approximately 6,300 miles of electric line span the DREMC service area, most of which are located in rural areas densely populated with trees.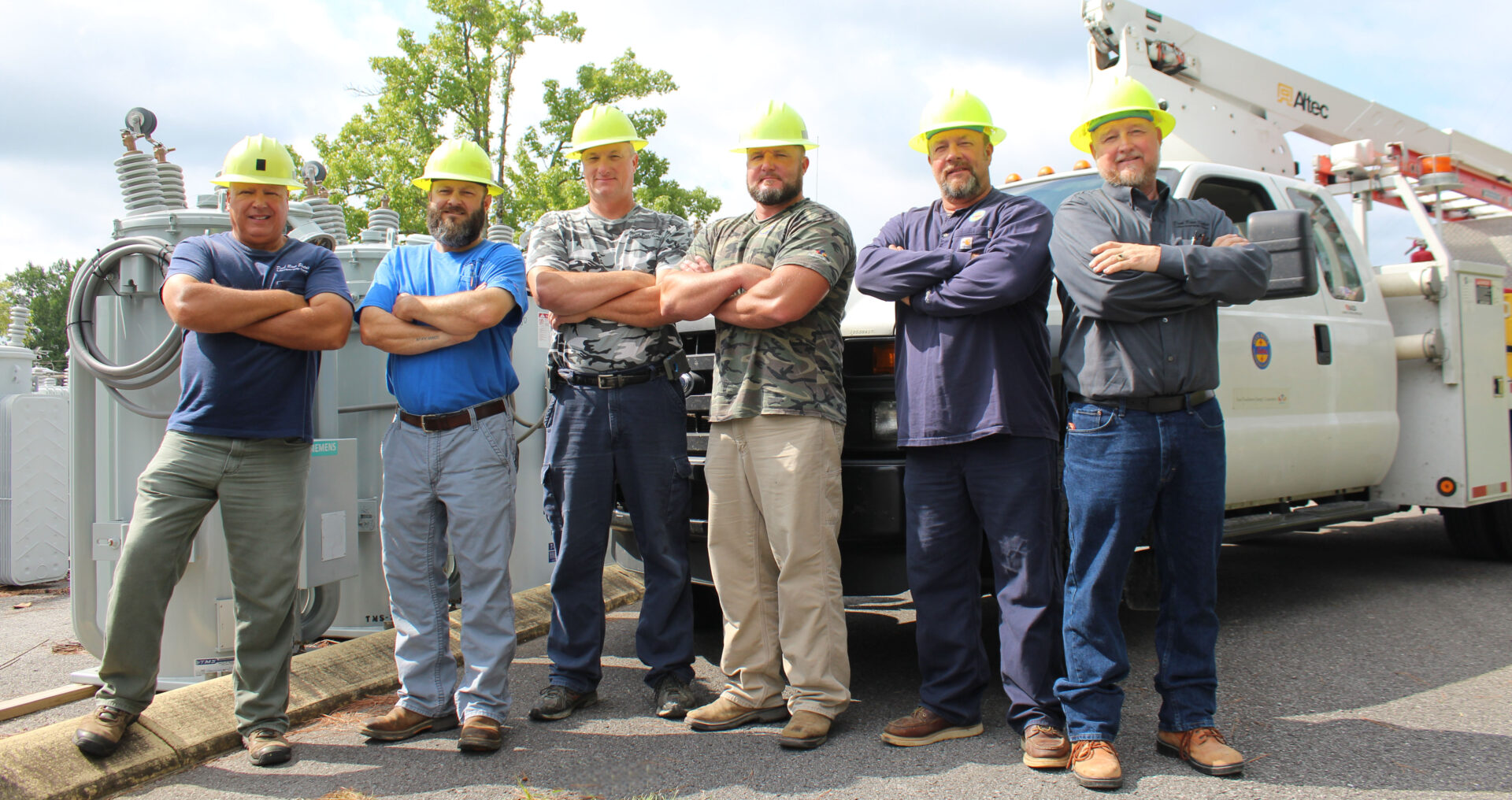 DREMC's field services team members are, from left, Bruce Butts, Casey Manderson, Jeremy Parker, Patrick Harden, Mark Brannon, and Mike Newman.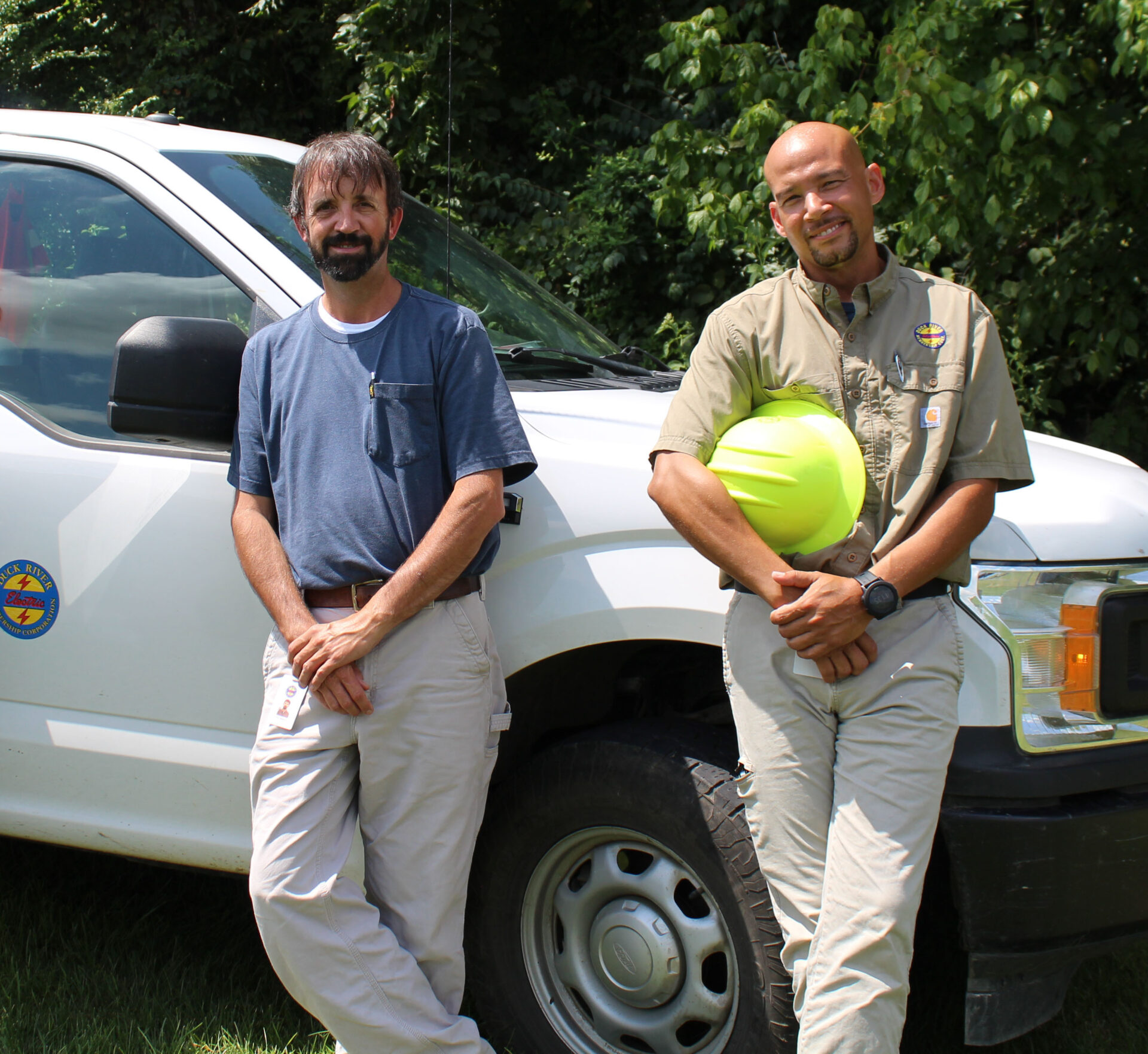 The right-of-way team members are Trey Watson and Jermaine Bennett. Not pictured is Billy Smartt. 
The ice storm of 2021 serves as a reminder of the impact that damaged trees can have on the electric system when they fall across overhead power lines. When trees and limbs fall within the reach of the lines, they can not only leave members without electricity but also create dangerous conditions as lines are bought to the ground and threaten the safety of DREMC members and emergency crews working to clear roadways and restore power.
The collaborative efforts of DREMC's ROW team include working with the members, caring for the environment, and meeting system reliability standards to create a balanced and proactive approach to overhead line maintenance.
Smartt shares a comparison of their efforts to that of it being cheaper to change the oil in a vehicle than it is to replace the engine. "It is much cheaper to maintain DREMC's overhead lines as opposed to rebuilding miles and miles of electric line damaged by trees. Trees may continue to cause outages during major storms, but preventative maintenance drastically reduces the number of outages and the duration time."
The team proactively communicates with the membership to ensure the best possible outcome and to achieve safety and reliability at the lowest possible cost.
"In the past, power lines had to be de-energized while crews cleared tree limbs," said Smartt, "and now most right-of-way trimming is done while the lines are energized so members do not have to experience an outage while lines are maintained."
"Our focus is on opening up the right-of-way to improve overall line clearance for line crews, reducing risk factors, and improving safety for employees and members," said Bennett. "A clear and open right-of-way gives electric crews access to the lines, which aids them with power restoration."
Perhaps you are familiar with the cliché, "an ounce of prevention is better than a pound of cure." If so, then it's clear that the combined efforts of these two DREMC teams are evident as power flows through thousands of miles of electric line. Although much of what these teams do is behind the scenes, their efforts are visible each time you flip on a switch and your lights come on . . . and stay on.