As the IT Manager of DREMC, you will be an integral member of our leadership team, developing and leading our information and technology team members and assets at the heart of our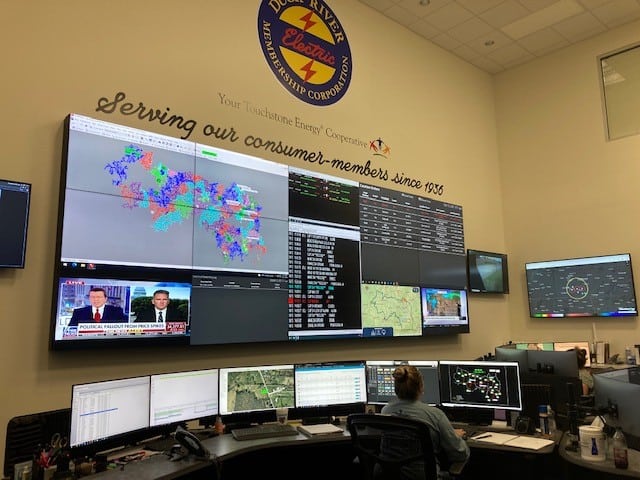 operations. Situated in our new multi-million-dollar, System Operations Center, housing state-of-the-art technology, you will partner with DREMC team members across nine offices to implement and safeguard our Information and Operations technologies utilizing a resilient, cooperative-owned fiber optic ring for corporate and SCADA networks while deploying industry-leading cyber security techniques. Not only will you gain amazing professional opportunities such as the management of a $1.1M Server and SAN upgrade, but DREMC is also centrally located in middle Tennessee, offering a breathtaking landscape and conveniency to multiple cities, which offer a wide and vibrant selection of tourist attractions and abundant educational and real estate opportunities.
Job description: The Information Technology (IT) Manager is responsible for developing and leading a team that ensures DREMC information and technology assets perform at a high level within a robust cybersecurity environment. This includes a wide array of technology platforms including hardware and software.
Location: Shelbyville, TN
PRINCIPAL ACCOUNTABILITIES
Develop professional team members who consistently, accurately, and appropriately respond to or initiate communication in a proactive manner to positively impacted DREMC IT users.
Provide weekly feedback to each IT team member to affirm what is going well and to partner with them on areas for improvement, yielding consistent results.
Oversee the purchase, installation, monitoring, maintenance, development, upgrade, and support of all IT systems.
Assist employees in understanding and using technology.
Knowledgeable of current emerging technology and regulations that affect information technology, cybersecurity, and/or risk management-related topics and responsible for staying informed on changes related to those topics.
Evaluate existing business technology resources and recommend new technologies or upgrades/enhancements.
Administer and manage the cooperative network system, including troubleshooting connectivity issues.
Oversee the infrastructure for the internal business Land Mobile Radio communication system and related applications.
Provide technology planning and support services, including assisting departments in defining business and user requirements.
Ensure IT data security, risk management, disaster recovery, and business continuity planning processes and provide a regular review for currency and adequacy.
Plan and evaluate new technology solutions in view of organizational goals and objectives.
Implements, administrates, and maintains core databases.
Responsible for administering payroll time reports, as needed and consistent with all DREMC policies.
Studies and applies DREMC policies, procedures, by-laws, rules and regulations.
Conducts accurate and consistent employee performance evaluations while maintaining a productive and professional atmosphere by coaching, training, and motivating employees.
Consistently models the Leadership Principles of Leadership Landmines, 8 Management Catastrophes and How to Avoid Them.
MINIMUM REQUIREMENTS
Education — Bachelor's degree from an accredited college/university in computer science, information technology (IT), management information systems (MIS), or related field required, but eight (8) years applicable experience may be considered in lieu of degree.
Experience — Minimum of four (4) years of experience in computer science, IT, or MIS required.  Supervisory experience is preferred.  Experience in the electric utility industry is preferred.
Certification/License, etc. — Must possess or be able to obtain a valid Tennessee Driver's License.  Must be eligible and remain insured as a driver by the Cooperative's group liability policy for the automotive fleet.
Knowledge/Skills/Abilities — Knowledge of current trends and developments in the information technology field.  Knowledge of computer platforms, local area networks (LAN), web, cloud, and mobile-based systems.  Ability to occasionally lift and carry 25-50 pounds.  Ability to sit for long periods of time.  Ability to stand, walk, sit, bend, stoop, squat, push and/or pull.  Possesses effective oral and written communications skills.  Ability to prioritize, delegate and meet deadlines.
Reports to:  Vice President & Chief Operating Officer
Benefits: DREMC provides a comprehensive program of employee benefits, including group medical, dental, vision, employer-sponsored medical clinic, life, and long-term disability insurance programs, defined benefit retirement, 401K savings plans, and tuition reimbursement.
TO APPLY:
Candidates must submit a cover letter and resume. Send resume to employment@dremc.com.
Candidates must also complete and submit the DREMC Employment Application, and email the form here.
Complete the Voluntary Self ID of Disability Form, Self Identify Protected Veteran, & Voluntary Self Identification Form found here and submit the form to self-ID@dremc.com.
DREMC does not accept resumes from third-party recruiters.
Equal Opportunity Employer EOE/AA M/F/D/V