03 Mar

Bright ideas for Normandy's street lighting

Today's edition of The Shelbyville Times-Gazette includes a story about DREMC working with Normandy officials to upgrade streetlights with LED fixtures. With special courtesy and permission from The Shelbyville Times-Gazette and Editor John Carney, DREMC is sharing the story with you on our website and social media.
Normandy may upgrade lighting
It's an offer that Normandy town officials would be hard-pressed to refuse – new, better quality street lighting with a monthly electric bill almost $100 lower per month.
"It's a no-brainer," said Normandy Mayor Charles Whitaker.
Duck River Electric representatives made the offer last week to the town's Board of Mayor and Aldermen, offering to replace the town's 39 streetlights with state-of-the-art LED fixtures.
Although the amount of money the town would pay monthly for the "investment" (the cost of buying the hardware) would increase from the current $86 to an estimated $151, the charge for the electricity to power them would decline from the current $209 to an estimated $47.
The net monthly bill (investment plus the cost of electricity) would drop from $295 to around $198 – a 33 percent savings.
The total new investment by the town is estimated to be $20,150.
The other advantages that LED lighting provides is better quality "clean light," according to Chip Pinion with Duck River Electric, and it's less wasteful as the light is not dispersed into the sky where it's not needed. Instead of the 360 degree glow of traditional street lights LED lighting is better controlled, aimed down at the street where the light is needed. LED lighting, according to a Duck River handout, "reduces hot spots and intermittent areas of darkness between lights and improves overall visibility."
The town currently has 39 streetlights. In replacing the old lights with LED fixtures, the town may be able to adequately light up the night with fewer lights. However, a review of the current situation may show that more lighting is desired. If the town chooses to purchase additional lights the cost per light would be somewhere between $750 and $1,000.
The other advantage that Duck River offers in its street lighting program is a complete, no labor cost, maintenance program. If a light is damaged or fails, Pinion said, the town will only be billed for the cost of replacement parts. LED bulbs have a 15 to 20 year life expectancy, he said, cutting maintenance costs between 20 and 30 percent.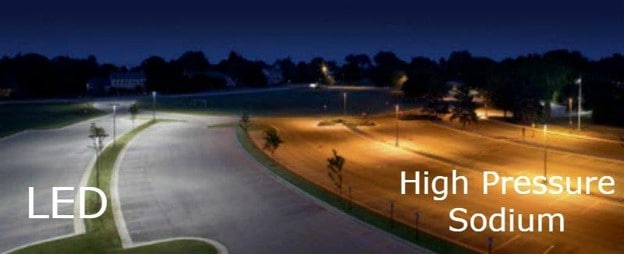 For anyone interested in viewing LED streetlights, Pinion recommended they view the lighting in the main part of town in Tullahoma. He also suggested people drive by the Duck River facility in Shelbyville on Learning Way off Madison Street. Along the street, he said, are eight different LED fixtures Duck River is evaluating.
Duck River Electric also provides consulting services to help communities determine "what is the best possible way to make sure light is distributed the way it needs to be," Pinion said. "There's a little bit of art to that."
"The overall aesthetics of LED light, we think, would really enhance the community," Pinion said. "We are looking at what will be the best for your community."
Story by: TERENCE CORRIGAN ~ corriganterence@yahoo.com
Reprinted with permission from The Shelbyville Times-Gazette ~ t-g.com