12 Feb

Co-ops tell story of rural Tennessee during 2018 Day on the Hill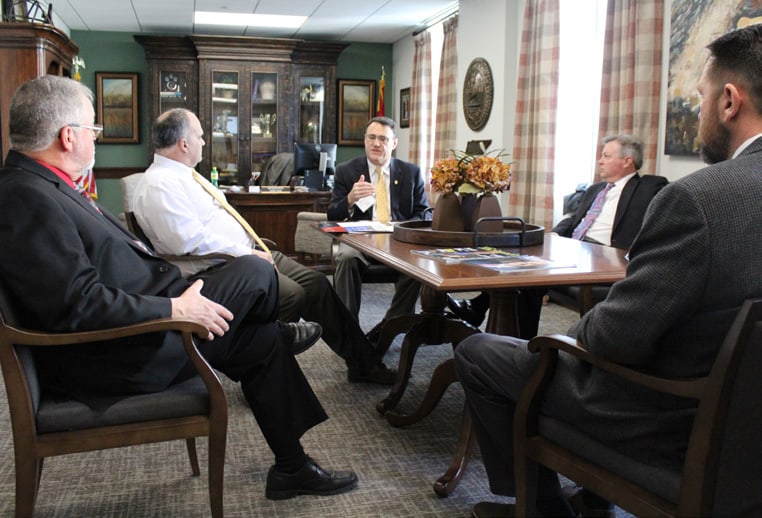 More than 200 electric co-op leaders from across the state were in Nashville on Jan. 29 and 30 for the 2018 Tennessee Electric Cooperative Association Legislative Conference. During meetings with legislators on Capitol Hill, co-op members and employees stressed the important role that co-ops play in their com­munities and briefed lawmakers on issues that impact rural and subur­ban Tennessee.
Lt. Gov. Randy McNally opened the meeting on Tuesday morning. "I'd like to welcome you here to Nashville," he said. "I appreciate the job you do."
Tennessee's electric coopera­tives maintain a visible presence in Nashville and Washington, D.C., to protect the interests of co-op and their consumer-owners, "We are here to give a voice to rural Tennesseans," says David Callis, CEO of the Tennessee Electric Cooperative Association. "We must tell the electric cooperative story and educate lawmakers about the impact of proposed leg­islation."
"Advocating for our members doesn't stop at the edge of our service territory," said Michael Watson, president of TECA's board of trustees and CEO of DREMC. "It is critically important that our elected leaders in Nashville keep cooperatives in mind when crafting laws and regula­tions that impact us. We have a responsibility to our com­munities to tell their story."
Co-ops asked lawmakers to sup­port Senate Bill 1646 and House Bill 1591 that will speed the de­ployment of broadband by allowing co-ops to utilize existing easements for nonelectric purposes such as telecommunication services. Also discussed was support of Senate Bill 1752 and House Bill 1773 that will elevate the charges of as­saulting a utility worker and makes them consistent with penalties already in place to protect other first responders. A final issue discussed was an effort by the Department of Revenue to apply sales tax to fees paid by utility consum­ers. Co-ops asked the General Assembly to enact legis­lation to protect utility consumers from these additional taxes.
"Educated and informed legislators are necessary for us to provide low-cost, reliable power, and our legislators listen when we come to visit," said Callis.
More than 100 legislative visits were made during the conference.
In the photo above, DREMC board and staff visit with Rep. Barry Doss during the Day on the Hill to discuss issues affecting rural cooperatives.