25 Mar

Community High School students attend DREMC-sponsored Youth Leadership Summit

Macie Lemmons and Brayden Pearson of Bedford County were sponsored by Duck River EMC to attend the Tennessee Electric Cooperative Association's 2019 Youth Leadership Summit March 3-6 in Nashville. Delegates to the annual event received a hands-on look at state government, participated in networking and leadership activities and developed a better understanding of their local electric cooperative.

While in Nashville, the juniors toured a neighboring electric cooperative, TVA's Gallatin Fossil Plant, and visited the State Capitol Building. They learned the process required to pass legislation with students given the opportunity to debate and vote on mock bills. While visiting the capitol, they were able to visit the offices of their State Rep. Pat Marsh and Sen. Shane Reeves and sit in on a legislative committee meeting.

They also heard from Tennessee leaders like Miss Tennessee Christine Williamson; Adam Hammond, anchor for Nashville's NewsChannel5; and Trooper Jeffrey Buchanan with the Tennessee Executive Protection Detail.

Delegates to the Youth Leadership Summit are encouraged to be leaders in their hometowns and use their talents to improve rural Tennessee.

"It was such an amazing experience filled with so many new friends and new experiences that I will cherish forever," said Lemmons.

"It was so much fun. I met a variety of new people and learned about leadership," said Pearson.

"Local electric co-ops, school officials and guidance counselors chose these deserving students to attend the summit based on their interests in government and strong leadership abilities," said Connie Potts, DREMC Publications and Marketing Specialist. "They will be the next generation of leaders in rural Tennessee, and we want to prepare them for the challenges and opportunities they will face. The future of our rural communities depends on a new generation of strong leaders like these."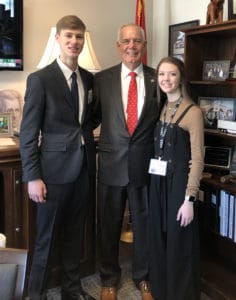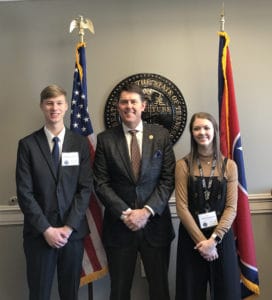 Meeting with Rep. Pat Marsh (top) and Sen. Shane Reeves (above) are Brayden Pearson and Macie Lemmons of Community High School.