17 May

DREMC congratulates the 2022 writing contest winners

Duck River Electric is proud to introduce the 11 high school juniors who have won scholarships through our annual writing contest.

Each winner will receive a $1,000 scholarship from DREMC to be applied towards their higher education. Winners are also eligible to compete for other scholarships ranging from $1,000 to $10,000 on a statewide level.

"DREMC is committed to being a partner in the communities we serve, and the writing competition opens a door for us to provide an opportunity to the students," says DREMC President and CEO Scott Spence. "We applaud these winners and wish them continued success in their future endeavors."

Each year, DREMC invites high school juniors, who receive electric service from the cooperative, to write short stories of up to 900 words about electric cooperatives and how they serve their communities. This year's contest theme was titled "Electric Cooperatives: Building a Brighter Tennessee" and encouraged students to focus on how electric cooperatives have far-reaching impacts on Tennessee through investments in energy, education, broadband, economic development, and more.

"TVPPA is honored to be involved in the selection process to identify the scholarship recipients within DREMC's service territory," Executive VP, Member Services and Strategic Relations Danette Scudder said. "The future is indeed bright in Tennessee with these student scholars as advocates and ambassadors for cooperative values. We look forward to seeing all of the great things they will accomplish."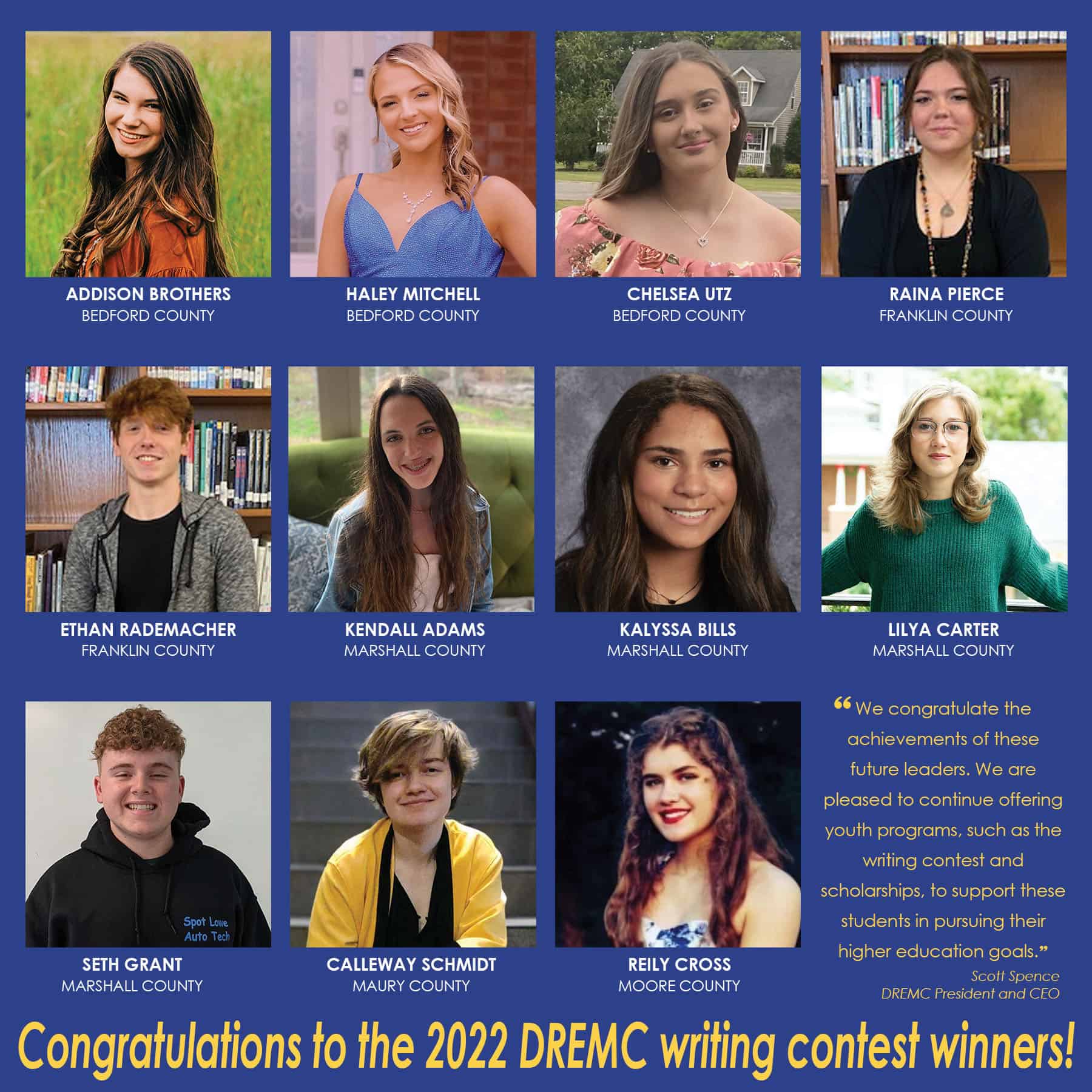 Contest submissions were judged by Tennessee Valley Public Power Association (TVPPA) staff members. TVPPA, based in Chattanooga, TN, is a nonprofit, regional service organization representing the interests of electric utilities operating within the Tennessee Valley Authority service area.
"We appreciate TVPPA's assistance again this year in selecting the contest winners," adds Spence," and we appreciate the schools in our service area for supporting the efforts to offer this writing contest to their students."
Click here to read more about the annual writing contest sponsored by Duck River Electric.