24 Apr

DREMC, EMS team up on river to restore power

On Monday around 2:30 p.m., heavy rains took a toll on a small portion of the Duck River Electric Membership Corporation (DREMC) service area in Bedford County, which resulted in a teamwork effort between electric co-op employees and the swift-water rescue crew from the Bedford County Emergency Medical Services (BCEMS).

Along a section of the Duck River near Haley Road and Three Forks Bridge, a tree, two-foot in diameter, fell across a three-phase line causing an electric phase to burn down. As DREMC crew members worked to cut and remove the tree from the line, the high, rushing water of the Duck River compromised the tree's root system and caused the tree to break away and fall into the river, bringing the electric line down into the river as well.

To safely repair the damage, DREMC contacted Brian Bruce with BCEMS, who quickly joined their swift-water rescue crew, and took DREMC's Matt Keele, lineman, into the river to retrieve the downed power line.

"We really appreciate our members and their patience while we worked to restore power," says DREMC Shelbyville District Manager Mike Bayne. "We understand the outage occurred at an inconvenient time, and it interrupted daily activities. We appreciate you bearing with us as our folks got the power back on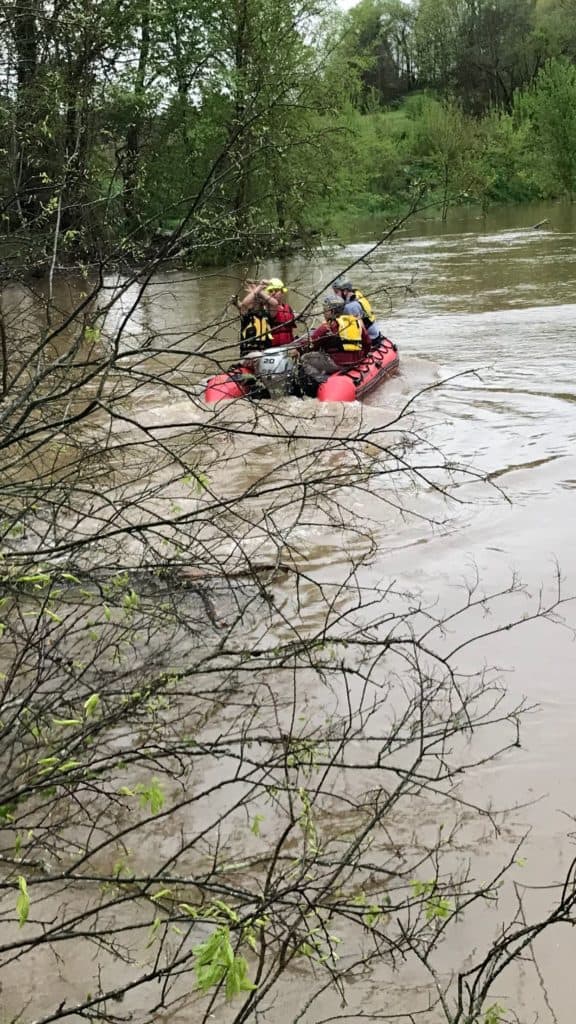 safely under difficult conditions near the river."
DREMC reminds its members that not all outages are quick fixes. Weather, terrain and extent of the damage all play factors in how long a power outage can last. During Monday's outage, power was out for approximately five hours to 33 DREMC members while repairs were made.
"We are thankful for the assistance of our local EMS crew members," adds Bayne. "In situations like this, mutual aid between community service organizations helps provide the resources and manpower to get the job done quickly and safely."
IN THE PHOTO:
DREMC Lineman Matt Keele joins the Bedford County EMS swift-water rescue team to retrieve the downed power line from swollen Duck River before the electric crew could make repairs and restore power to its members. Keele holds the de-energized, fallen power line as the EMS crew heads back to the river bank.