09 Jun

DREMC honored for recent storm recovery, donates funds to Project HELP

Duck River Electric Membership Corporation's (DREMC) Columbia district employees are honored by a proclamation from Maury County Mayor Andy Ogles at the Columbia Noon Rotary Club meeting last week, which proclaimed June 4, 2020, as "Electrical Worker Day."

The proclamation, requested by the Columbia Noon Rotary Club, recognizes both Duck River Electric and Columbia Power and Water System (CPWS) employees for outage restoration efforts following a severe thunderstorm in early-May that caused widespread damage across Columbia and Maury County as well as other areas served by DREMC.

"One of the core values of Rotary is 'service above self,'" says DREMC's Columbia District Operations Supervisor DeWayne Colbaugh, who is also a Rotary Club member. "DREMC employees exhibit this every day but especially during storms like the ones we experienced last month, and we appreciate Rotary members for honoring their hard work."

In addition to the county mayor's proclamation, and in lieu of other ideas suggested by Rotary Club members to show appreciation, leaders of Duck River Electric and CPWS opted to accept monetary donations from the Rotary Club to assist community residents. The donations, $500 to DREMC and $500 to CWPS, are being contributed on employees' behalf to Maury County's Good Samaritan Program, administered by the Family Center, which assists qualifying applicants with electric bill payments.

Other partnering organizations across the DREMC service area offer the Project HELP program to assist members with electric bills.

"We salute all the employees of these two power companies and thank them for working so hard for several days to restore electricity in our area," says Eric Previti, Rotary Club president and Maury County Commissioner. "Rotary's donations are being made in their honor to help those in the community who need assistance."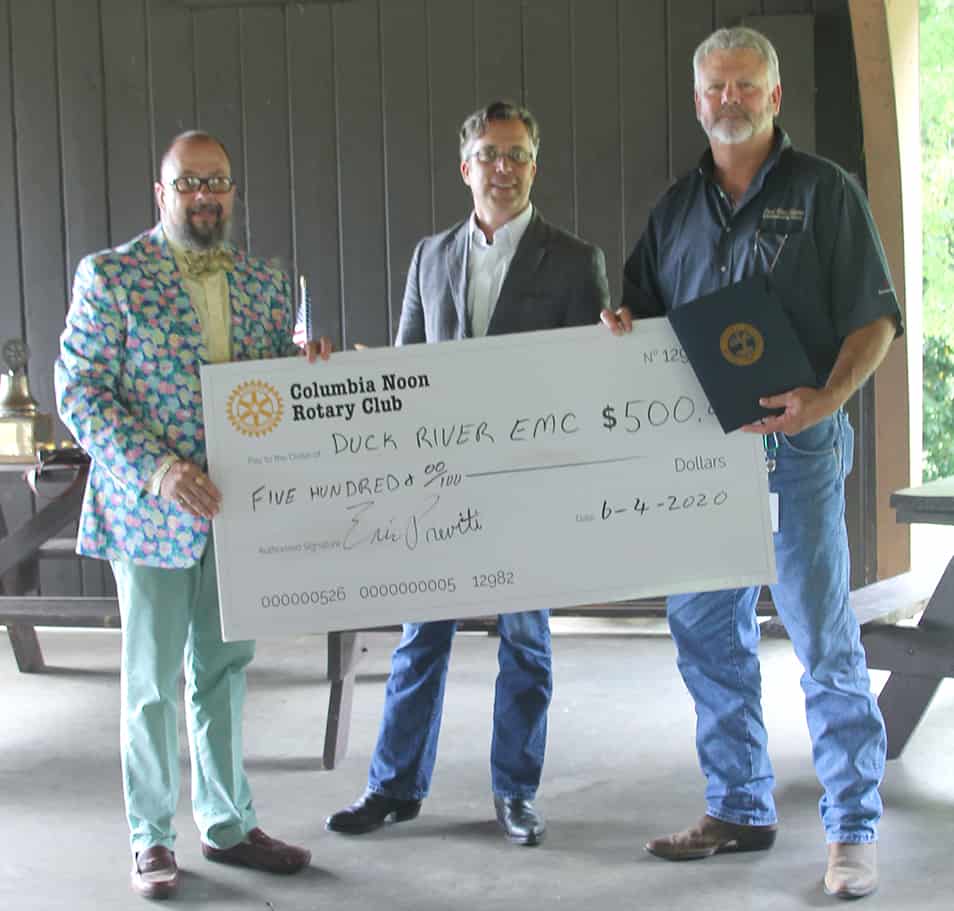 From left, Columbia Noon Rotary President Eric Previti and Maury County Mayor Andy Ogles present a $500 check to DeWayne Colbaugh, DREMC's operations supervisor of the Columbia District. The money will be used to help fund the cooperative's Project HELP program, which benefits those without means to pay their electric bills during hardships.