12 Jan

DREMC stands ready against winter weather

Temperatures are now falling in middle Tennessee as the wintery weather moves into the Duck River Electric Membership Corporation (DREMC) area bringing the potential for a mix of precipitation.

Although the DREMC area is not expected to receive the worst of the winter storm, crews stand ready to respond to possible outages that might result from any snow and ice accumulation forecasted for our service area.

"When winter storms are predicted for our service area, especially when ice is a possibility, it's all hands on deck at the cooperative," says Michael Watson, DREMC president and CEO. "From electric crews and dispatchers to member service representatives and accountants, we will all be working to help our members in the event of a major power outage due to winter weather."

"We will continue to monitor the situation throughout Friday evening as the weather moves across the state," he adds.

"Our employees work year-round to keep our distribution system maintained and upgraded to provide  reliable, uninterrupted electric service to all our members," he adds. "From clearing rights of way to upgrading distribution lines and substations, but in the end, we have very little control over what winter storms can do to our system as snow and ice accumulate on trees, which cause limbs to break and fall across our power lines. We've even seen times when snow and ice weighs heavy enough to break power lines themselves."

"The best advice we can offer is to be prepared for possible outages throughout the year, but especially during the winter," advises Watson. "We encourage our members to stay updated on the winter weather moving into our area and make plans in case we do experience any type of outage due to the weather."

If DREMC is fortunate enough not to experience major outages related to the winter precipitation, we stand ready to send some of our electric crews to assist with storm recovery efforts in other areas if there's a request through our cooperative mutual-aid agreement with our statewide office, the Tennessee Electric Cooperative Association.

For more information about power outages, how to prepare for outages and how to remain safe during an outage, click on the SAFETY tab located on our website.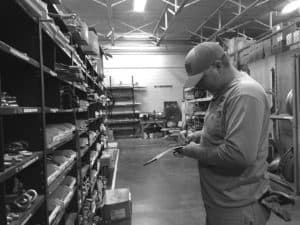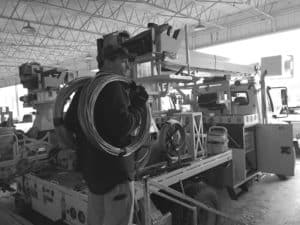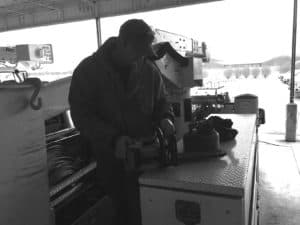 Above electric crew members at the DREMC Shelbyville District prepare materials and equipment for possible winter storm outages.