30 May

Holiday weekend storms leave 50,000 co-op members across Tennessee without power

Severe storms roared through the Volunteer State on Saturday evening, May 27, leaving more than 50,000 co-op members across the state without power. Wind speeds exceeding 95 miles per hour were recorded in some locations, bringing down trees, breaking poles and snapping power lines.

Crews worked through the holiday weekend to repair the significant damage. Tennessee's electric cooperatives appreciate the assistance of Nolin RECC from Kentucky, which sent crews to assist with the restoration efforts.

Fallen tree limbs, resulting from the heavy rains and strong winds, are responsible for most outages reported in the Duck River EMC  service area over the weekend.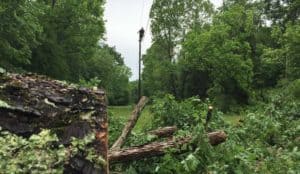 "Severe weather events like this remind us of the resilience and dedication of Tennessee's electric cooperatives," says David Callis, executive vice president and general manager of the Tennessee Electric Cooperative Association. "When their communities were in need, co-op lineworkers gave up their holiday weekend, put on their gear and went to work. They have responded with efficiency and professionalism, and we appreciate their efforts."
"We appreciate our co-op members' patience as our crews worked to restore power," says DREMC President/CEO Michael Watson. "And we also appreciate those who called to report the outages, giving us details about downed trees and power lines."
On Tuesday morning, May 30, fewer than 1,000 members remain without power. Co-ops expect to restore power to all meters capable of being reconnected by later today.