24 Aug

Record crowd attends DREMC Annual Meeting

Approximately 300 Duck River Electric Membership Corporation (DREMC) members, employees and guests gathered for the 2017 Annual Meeting Saturday, Aug. 21 at Harris Middle School in Shelbyville.

Four unopposed incumbent directors were re-elected to new terms, and board officers were named in the reorganizational session following the meeting.

Mike England, Zone 1 (Coffee and Warren counties), Philip Duncan, Zone 2 (Franklin, Grundy and Marion counties), Barry Cooper, Zone 4 (Bedford and Rutherford counties), and Anthony Kimbrough, Zone 6 (Maury, Hickman, Lawrence, Lewis and Williamson counties), returned to the Board of Directors by acclamation vote.

New Maury County Board Member Dana Salters was introduced to the crowd. Salters was appointed to fill the unexpired term of former Maury County Director Bob Dubois who retired last month.
Barry Cooper was re-elected chairman of the DREMC Board of Directors. Other officers include Buford Jennings, vice chairman; John Moses, treasurer; and Laura Willis, secretary.

Chairman Cooper opened the meeting expressing his appreciation to the membership for their attendance. He stated that the thirteen-member board represents diverse backgrounds including engineering, publishing, health care, insurance, agriculture, accounting, finance, construction and retail business. "We understand we work for you the owner/members who are our partners in this enterprise. That drives our decision making each and every time we meet," remarked Cooper.

Cooper assured the membership that the financial condition of the cooperative is sound and continues to invest in the network of substations, circuits and lines that maintain and increase the reliability of the service. Cooper shared that the trend line for outage time has dropped from 290 minutes per member per year to 140 minutes with the number of outages dropping from just under 4 per year to 1.6.

Cooper discussed the diversity of the member owners explaining that a few are multinational corporations, who pay millions of dollars to small business owners, farmers and residential households, totaling 74,000 members strong.

Cooper also discussed how DREMC is trying to stay on the cutting edge of technology and gave a personal example of how the DREMC mobile app helps members pay their bills and keep track of outages even when they aren't home. Economically struggling members are able to take advantage of the prepaid meters, thus avoiding a large security deposit, late fees and cutoff fees. These members end up very savvy energy conservationists as they learn what makes the meter run fast and allows them to slow it down according to their paycheck schedule. "Your co-op is trying very hard to meet the needs of all of our members and whatever challenges they face to provide a better life for themselves and their families," shared Cooper.

 The lack of high-speed broadband access was on the minds of many in attendance at the meeting. As one southern legislator said, "We need rural broadband more than we need roads and bridges in many of the counties I represent." Cooper assured those attendees that DREMC understands that broadband access in our service territory is critical to the future economic well-being and without it, medical, educational and industrial concerns may find it difficult to achieve their missions.

DREMC is already committed to building a fiber optic connection from the Shelbyville office to a satellite office that houses the computer backup center. The next logical step is to construct a fiber optic network among all offices, substations and radio towers to improve reliability and save on phone bills. Cooper stated that while 99.9% of the people in our service area require electricity from us (they have no other viable option), not everyone needs broadband and many members in our higher density areas already have it from other providers. "We realize the communications field is highly competitive with large multinational corporations that often use dog-eat-dog tactics to cherry pick customers from other providers, but DREMC does not live in that world," said Cooper. "So while we are early in our deliberations, it is likely that our best way to help deliver broadband in our service area is to offer parts of our fiber facilities to reputable internet service providers to make it more economically viable for them to work with us to penetrate our service area."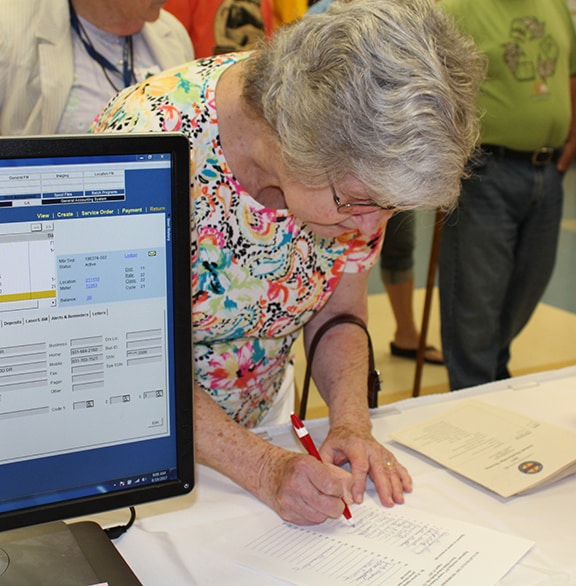 Chairman Cooper closed his remarks by thanking the DREMC employees for their tireless work in keeping the lights on and recognized those that retired this past year with combined experience of 180 years.
President and CEO Michael Watson opened his remarks with the DREMC mission statement – The cooperative exists to deliver reliable electricity at the lowest possible cost, to promote economic development and to improve the quality of life for its members.
Watson discussed how important reliability is in light of the recent storms that have ravaged the area and thanked everyone involved with helping restore power to our members. He explained that being a cooperative also means that sometimes DREMC sends their crews to other areas hit hard by storms as was the case when DREMC crews were sent to help after Hurricane Matthew devastated the Atlantic coast of Florida.
Watson shared a conversation that happened at last year's annual meeting in which some Marshall County residents were unhappy with the reliability in their area. He assured the membership that right-of-way issue had been taken care of and showed pictures before and after pictures of the work done.
Watson also explained DREMC's commitment to community. He said programs like Project Help and Weatherization Wizards are ways to give back and help those in need. Watson also informed the membership that Do-It-Yourself workshops are being planned soon to educate our members on how they can reduce their energy bills.
Demand response programs like Beat the Peak™ and Conservation Voltage Reduction (CVR) benefit all co-op members by reducing the effect of peaks (highest demand for wholesale electricity), when the cost of power can skyrocket to $9.50 per kilowatt-hour, Watson pointed out.
Watson also praised DREMC's efforts to engage our young people by bringing safety demonstrations into the schools and engaging our young people.
Treasurer John Moses said DREMC is financially strong, with assets of just under $243 million and total income of more than $189 million. Revenue was up from fiscal year 2016 due to a very warm summer and fall offset a mild winter. Moses noted that the co-op maintains a healthy equity ratio of 44%.
The cost of purchased power from TVA represented 75 cents of every dollar paid to DREMC by members in fiscal year 2017.
Door prizes were awarded after the business session. The grand prize went to Kay Lowry of Coffee County who took home a Holland grill.