14 Jul

Reopening of Motlow House at Jack Daniel's in Lynchburg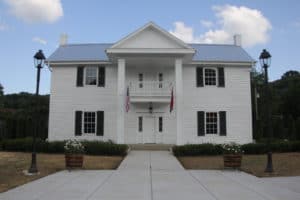 Part of the 150th anniversary celebration of Jack Daniel's in Lynchburg, Tenn., included the official opening of Barrel House 1-14 and the reconstructed Motlow House.
The opening of these buildings was commemorated with a ribbon-cutting ceremony July 13 and special remarks by Gov. Bill Haslam. The event was attended by members of the Tennessee General Assembly and local community.
The 1870s-era Motlow House was the home of Lem Motlow, proprietor of Jack Daniel's and nephew of the brand's namesake. However, the historic Georgian home had been unfit for visitors in recent years.
"With the reconstruction, the house has been reinvented to welcome Jack loyalists, while still retaining its scale and character," explained a Jack Daniel's spokesperson.
Wherever possible, elements of the original structure were utilized, such as window and door frames and other woodwork. In keeping with the original layout, the house includes four rooms with adjoining common areas, surrounding a central atrium.
A large, two-story high enclosed porch provides southern views of the distillery. Serving as both a social space and an archive, the refurbished Motlow House will now be home to the Squires' Room with areas for gatherings and private tastings.
Barrel House 1-14 was originally built in 1938 as one of many locations at the distillery where whiskey was left to mature in white oak barrels. With the renovation, the eastern portion of the building remains an active barrel house; down the central corridor, two glass-enclosed pavilions will serve as intimate settings for whiskey tasting.
The westernmost portion of the building is an open, three-story space that can accommodate additional tour group tastings or large-scale events. Several tour options will conclude in the Barrel House before guests return to the Visitor Center.
Duck River EMC is proud to supply electricity to Jack Daniel, Lynchburg and much of Moore County. We celebrate our 80th anniversary this year.