13 Jul

Join us for the DREMC Annual Membership Meeting!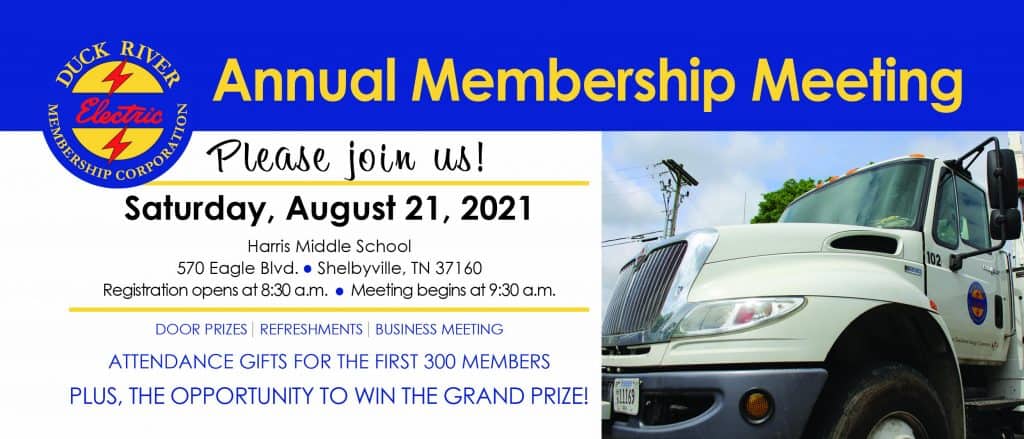 The 2021 Annual Meeting of the Duck River Electric Membership Corporation (DREMC) membership will be held Saturday, Aug. 21, beginning at 9:30 a.m. at Harris Middle School in Shelbyville, TN. Registration begins at 8:30 a.m.
"We look forward to welcoming members back to this long-standing DREMC tradition," says DREMC President and CEO Scott Spence.
"During the past 18 months, we have faced the need to adapt how we live, work, go to school, travel, and interact with one another," adds Spence. "DREMC was especially disappointed that, for the first time in our history, the annual meeting had to be canceled last year due to safety concerns during the pandemic. We are happy to invite DREMC members to attend the in-person 2021 event planned for next month."
Members will have an opportunity to receive attendance gifts, win valuable prizes, enjoy refreshments. We will also present what DREMC has accomplished over the past year and how those projects and improvements benefit the members and communities we serve.
This year elections will be held for a Zone 5 board director position serving Marshall and Giles counties. Voting dates and times are listed at right.
We look forward to seeing you at the DREMC Annual Membership Meeting on Aug. 21!
In the event these plans change, DREMC will notify the membership on the website
and our social media pages. 
Voting machines will be set up at the DREMC Lewisburg and Chapel Hill offices located at:
991 South Ellington Parkway
Lewisburg, TN 37091
&
4637 Nashville Highway
Chapel Hill, TN 37034
2021 Voting Schedule:
Monday, August 16 – 8 a.m. until 6 p.m.
Tuesday, August 17 – 8 a.m. until 6 p.m.
Wednesday, August 18 – 8 a.m. until 6 p.m.
Thursday, August 19 – 8 a.m. until 7 p.m.
Friday, August 20 – 7 a.m. until 4 p.m.
Elections take place prior to the DREMC Annual Meeting event.