21 Mar

STEM education receives boost from TVA grants

Two schools served by Duck River Electric Membership Corporation (DREMC), Sewanee Elementary in Franklin County and Marvin Wright Elementary in Maury County, have been awarded $5,000 each in grants to develop science, technology, engineering and math education projects and support their STEM curriculum.

The Tennessee Valley Authority (TVA), in partnership with Bicentennial Volunteers Incorporated, a TVA retiree organization, provided these grants as part of $800,000 in STEM funding awarded to 197 schools across TVA's seven-state service territory.

"We congratulate these schools for receiving the grants and for their creative plans to inspire students through STEM education," says DREMC President and CEO Scott Spence. "STEM studies are fundamental to a good education. And now, with a world growing more technically sophisticated by the day, our future workforce, including DREMC, depends on exposure to STEM to fill a variety of important roles."

The STEM grant program is competitive with more than 600 grant applications submitted to TVA this year. The grants provide teachers an opportunity to apply for funding up to $5,000, and preference was given to grant applications that explore TVA's primary areas of focus: environment, energy, economic and career development and community problem solving. Schools receiving grant funding must receive power from a TVA distributor like DREMC.

"Despite the new challenges teachers faced in 2020, they are still focused on providing the best STEM education possible and have adjusted to new ways of teaching," said TVA's Community Engagement Senior Program Manager Rachel Crickmar. "I am proud of the partnerships we have built with these amazing educators across the Tennessee Valley over the past few years and are pleased to be able to provide some support through this program."

Sewanee Elementary School Principal Allison Dietz explains that the $5,000 grant received by their school will be applied toward construction of an outdoor deck, which will be used as a STEM classroom to provide additional learning space for students.

"The outdoor classroom will provide a safe atmosphere for students to explore and learn about science on many levels," Dietz says. "Sewanee Elementary is very excited to make strides in becoming a STEM designated school. We look forward in using the funds to make a safe place for students to explore, participate in hands on activities, experience problem solving strategies all while integrating STEM subjects."

"We are very grateful to receive this STEM grant from TVA," she adds, "and we have begun the process of adding the new outdoor classroom with hopes of it being completed by the beginning of the 2021-2022 school year."

Last year, Marvin Wright Elementary School received a $1,500 grant and applied the funds toward introducing "Gardening in the 21st Century: Leading the Way in Food Security Solutions." The school built raised gardening beds, set up rain collection barrels and enlisted the help of cafeteria staff, who assisted with the composting effort.

According to Connie Holland, STEM teacher at the school, students are growing an assortment of vegetables, including leafy greens, turnips, turnip greens, onions, radishes, carrots and cabbage. "Students are involved in the garden project from start to finish and get to taste the vegetables they grow in the garden while in the classroom," says Holland.

With the additional $5,000 grant received this year, Marvin Wright Elementary School will be able to expand their gardening project. Holland says they plan to create outdoor classroom space consisting of large picnic tables with sun-sail coverings at the garden site. Students will use the area to document the growth of their gardening projects while experimenting with what works and what doesn't with the vegetable plants.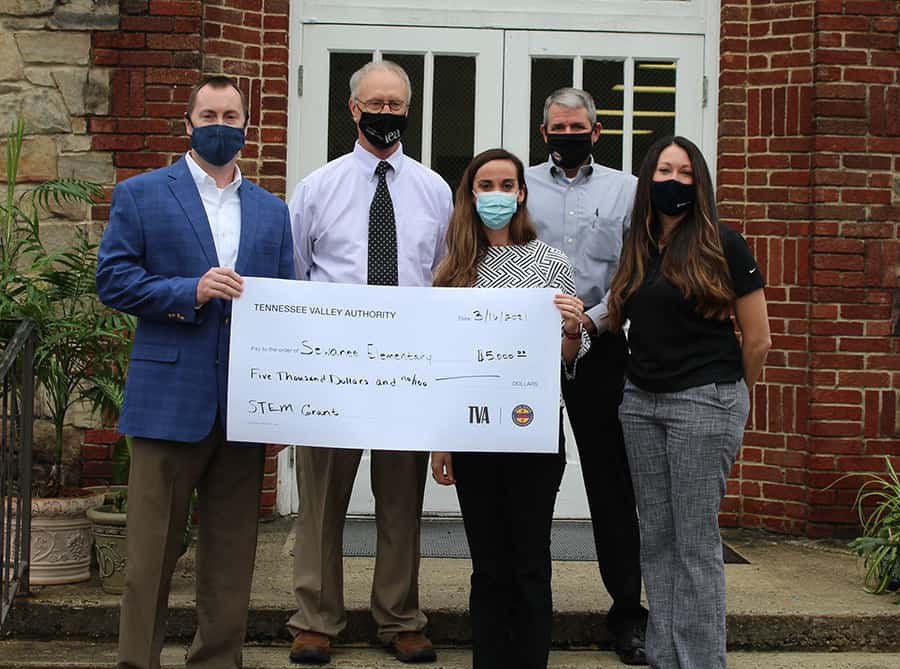 Presenting the $5,000 STEM grant to Sewanee Elementary are DREMC President and CEO Scott Spence, Franklin County Director of Schools Stanley Bean, Sewanee Elementary Principal Allison Dietz, DREMC Area Manager Tommy Campbell, and TVA Commercial Energy Solutions Program Manager Bethany Kitch.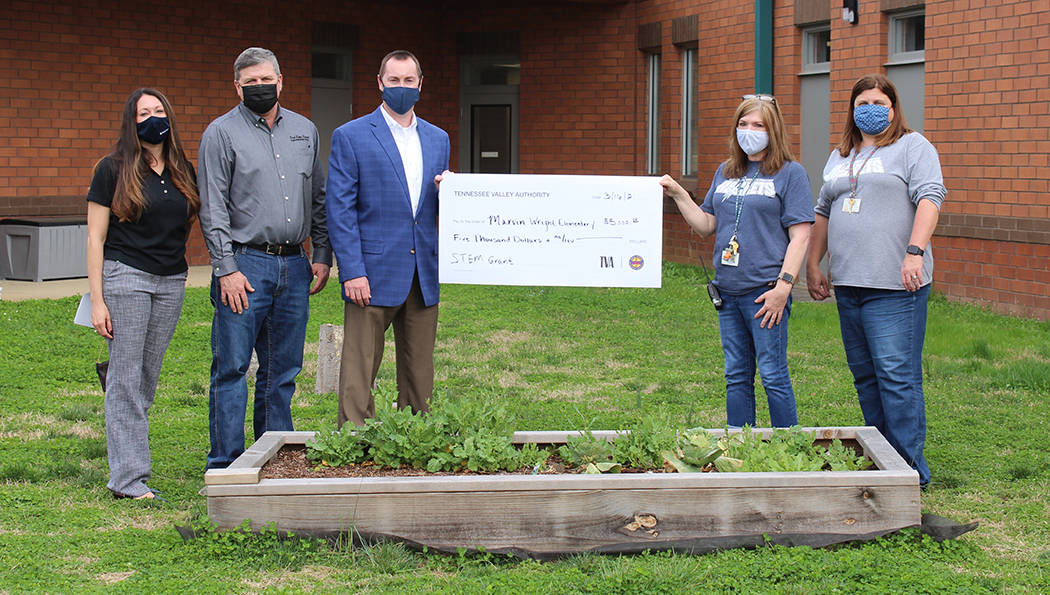 Awarding the $5,000 STEM grant to Marvin Wright Elementary are TVA Commercial Energy Solutions Program Manager Bethany Kitch, DREMC District Manager Steven Hopkins, DREMC President and CEO Scott Spence, and representing Marvin Wright Elementary are Connie Holland, STEM teacher, and Melissa Joslin, third-grade teacher.
Remaining funds from the grant will be used by the school's STEM class to purchase hands-on energy kits to help students learn about green energy resources. The kits include solar cars, wind-powered turbines and wind gliders.
"There is a demand in the Valley for workforce development through STEM education, and I am pleased at the way TVA and its retirees are responding to that demand by supporting teachers and students in the classrooms," adds Spence. "We're looking forward to seeing the impact the schools' STEM projects have."
A full list of the grant recipients can be found at www.tvastem.com.