13 Sep

United Communications awarded $53M in grants to expand rural broadband access in Middle Tennessee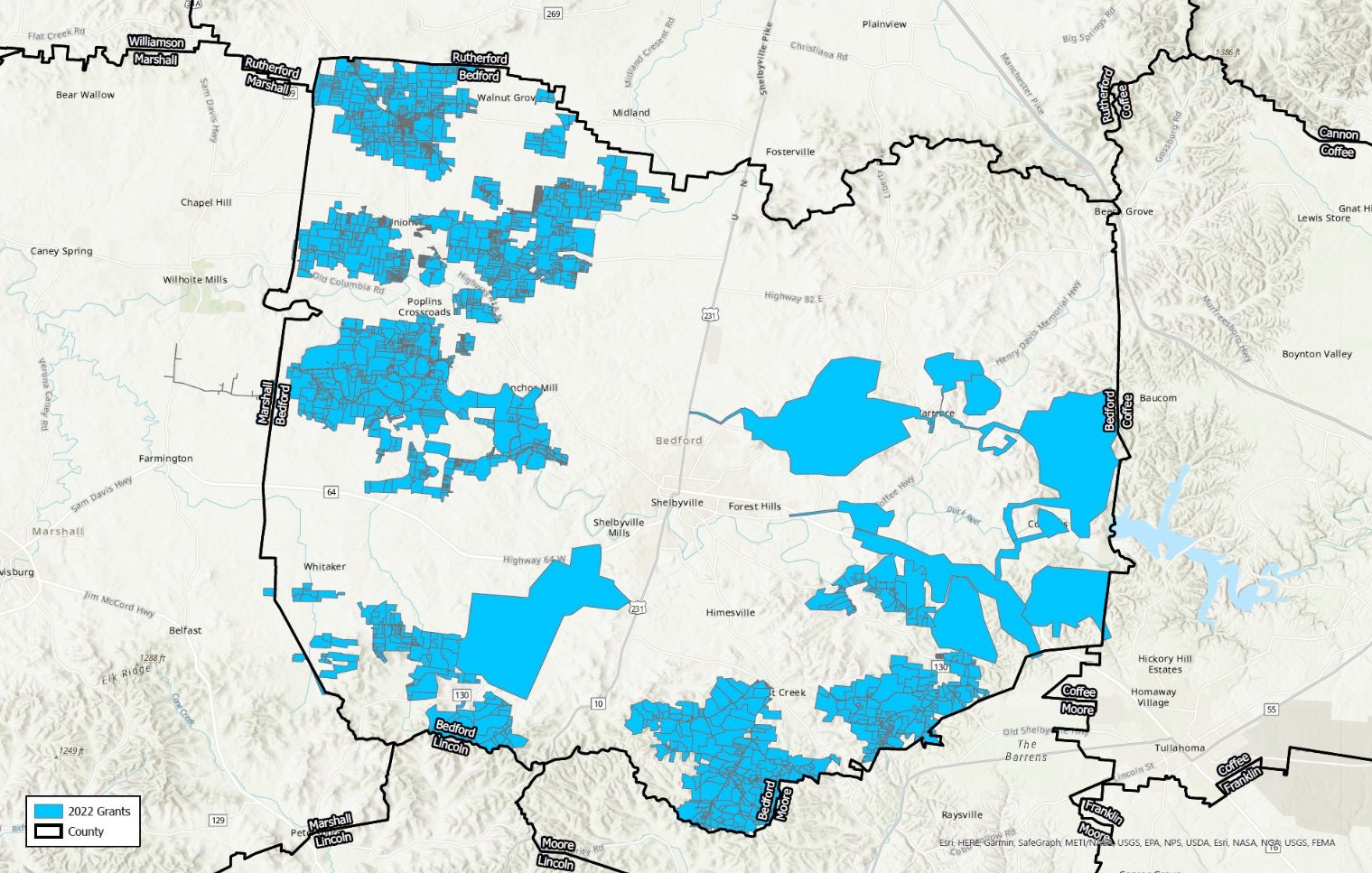 Grant areas are noted in blue. 
On Sept. 12, Department of Economic and Community Development Commissioner Stuart McWhorter announced the state will award United Communications with six grants totaling $53.4 million to invest in rural broadband infrastructure through the Tennessee Emergency Broadband Fund (TEBF-ARP).
Through the state process, United is investing an additional $14 million, in addition, local governments have committed supplemental funding for their particular internet projects.
United partnered with Middle Tennessee Electric and Duck River Electric to apply for the grant funding as part of Project UNITE, United's initiative to expand broadband access to every home and business in Middle Tennessee. The state grants awarded to United will support broadband infrastructure development across portions of Bedford, Franklin, Giles, Lincoln, Marshall, Maury, Moore, and Williamson Counties.
Middle Tennessee Electric President and CEO Chris Jones is excited about the fiber expansion, "Helping these unserved people acquire access to high-speed internet, something many of us take for granted, will truly change the way they work, learn and improve their quality of life. This is why MTE acquired United in the first place – to improve quality of life and service to our members."
Duck River Electric President and CEO Scott Spence praised the team effort, "The Duck River Electric team is thrilled to be part of this success for these communities," said Spence. "Through Project UNITE, we are proud to partner with United Communications in helping to secure this essential funding to allow underserved rural communities to gain access to broadband services."
"Everyone living and working in Middle Tennessee deserves access to fast, affordable, and reliable internet service," said William Bradford, President and CEO of United Communications. "These funds present a once-in-a-lifetime opportunity to invest in our rural broadband infrastructure. I'm grateful to Middle Tennessee Electric and Duck River Electric and all our local partners for their support."
United CFO Kristin Jackson said the state grants would add to United's already ambitious plans to fund proposed projects through a recently secured $130 million credit facility with CoBank, one of the nation's largest providers of financing to rural digital infrastructure and agribusiness operators.
"United's robust financial and operational partnerships underscore our intention to fully connect Middle Tennessee with a reliable and affordable broadband network," Jackson said. "We're ready and waiting to break ground and help bridge the digital divide in our rural communities."
The projected completion for the grant areas in Bedford, Marshall/Franklin, and Lincoln/Moore is 2023 and in Giles, Maury and Williamson is 2023-2024.
With two office locations, Chapel Hill and Franklin, United is building upon an existing network of over 1,700 route miles of fiber backbone in Middle Tennessee to supply high-speed internet, the latest Wi-Fi technology, and both digital TV and phone service for residential customers and businesses across the region.
For more information, visit United's grant information page.
You may also view the grant press release from the Tennessee Department of Economic & Community Development.