27 Aug

DREMC Annual Meeting in Manchester stresses putting members first

Marshall county native Lyn Stacey was elected to fill the vacated board seat in Zone 5 (Marshall and Giles counties) after the retirement of long-time board member Kenneth Stacey. Stacey defeated challenger Will Wilson by a margin of 147 to 103 in the election held August 13-17 at the co-op's Lewisburg and Chapel Hill offices.

Announcement of the election results were made at the annual membership meeting held on August 18 before approximately 300 Duck River Electric Membership Corporation (DREMC) members, employees and guests at the Coffee County Conference Center in Manchester.

Three unopposed incumbent directors were re-elected to new terms, and board officers were named in the reorganizational session following the meeting.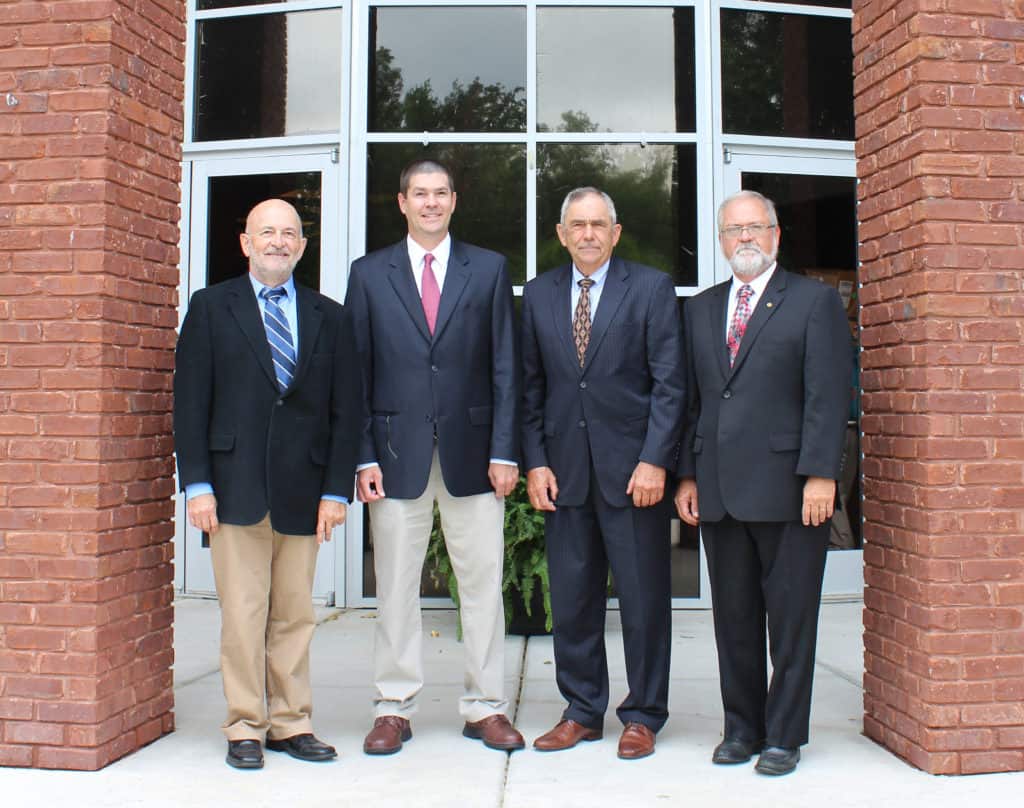 Brent Willis, Zone 1 (Coffee and Warren counties), Nelson Crouch, Zone 2 (Franklin, Grundy and Marion counties) and Wayne Tucker, Zone 4 (Bedford and Rutherford counties) returned to the Board of Directors by acclamation vote.
Barry Cooper was re-elected chairman of the DREMC Board of Directors. Other officers include Buford Jennings, vice chairman; John Moses, treasurer; and Laura Willis, secretary.
Attendees heard business reports and recaps about co-op programs and projects. They also registered for door prizes, including a portable generator, electronics, small appliances and sporting goods.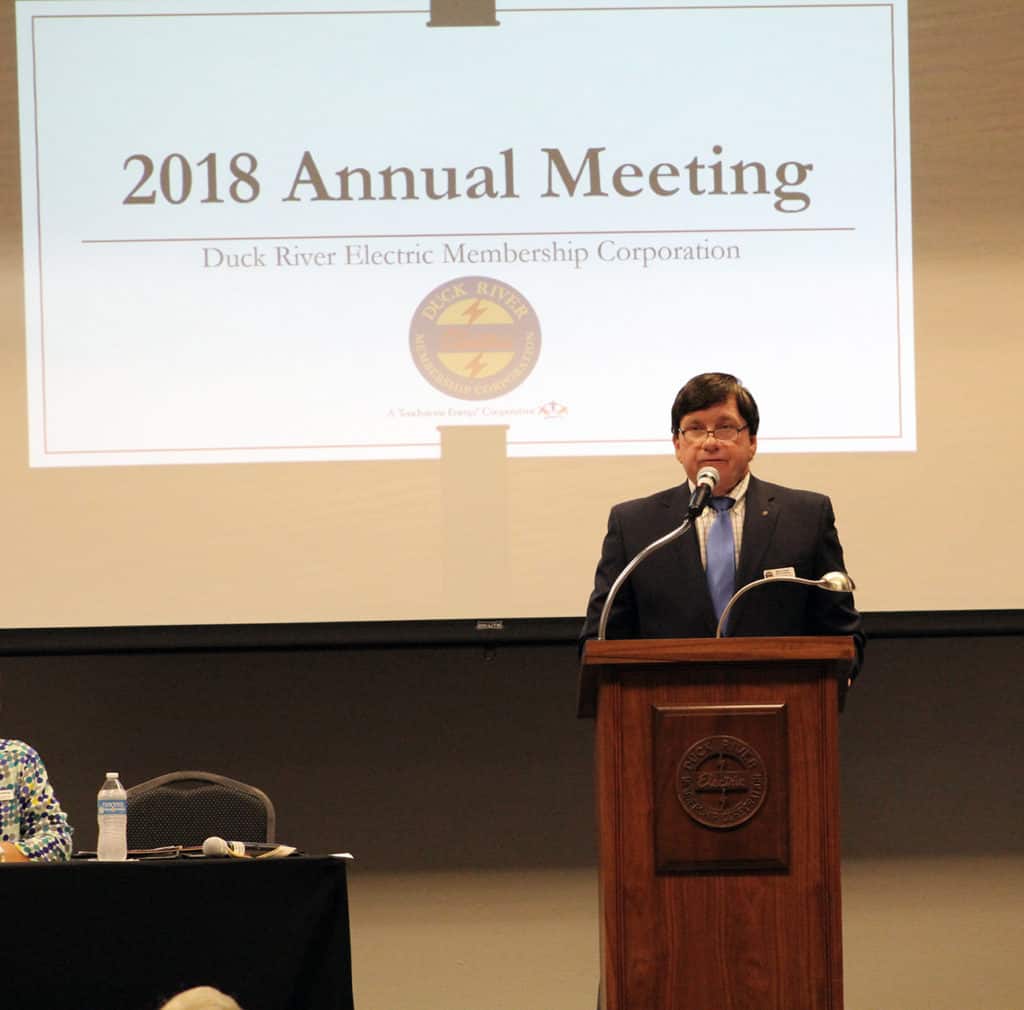 Cooper addressed the attendees assuring that the financial condition of the cooperative is sound and continues to invest in the network of substations, circuits and lines that maintain and increase the reliability of the service. Cooper shared that the trend line for annual outage time has dropped from 290 minutes per member per year to 123 minutes with the number of outages dropping from just under 4 per year to 1.5.
Cooper discussed the cooperative business model explaining that the cooperative is owned by the members and focused on the members' welfare instead of profits and explained that approximately 74 cents of every dollar collected goes to TVA to purchase power, leaving approximately 26 cents to cover all the other expenses.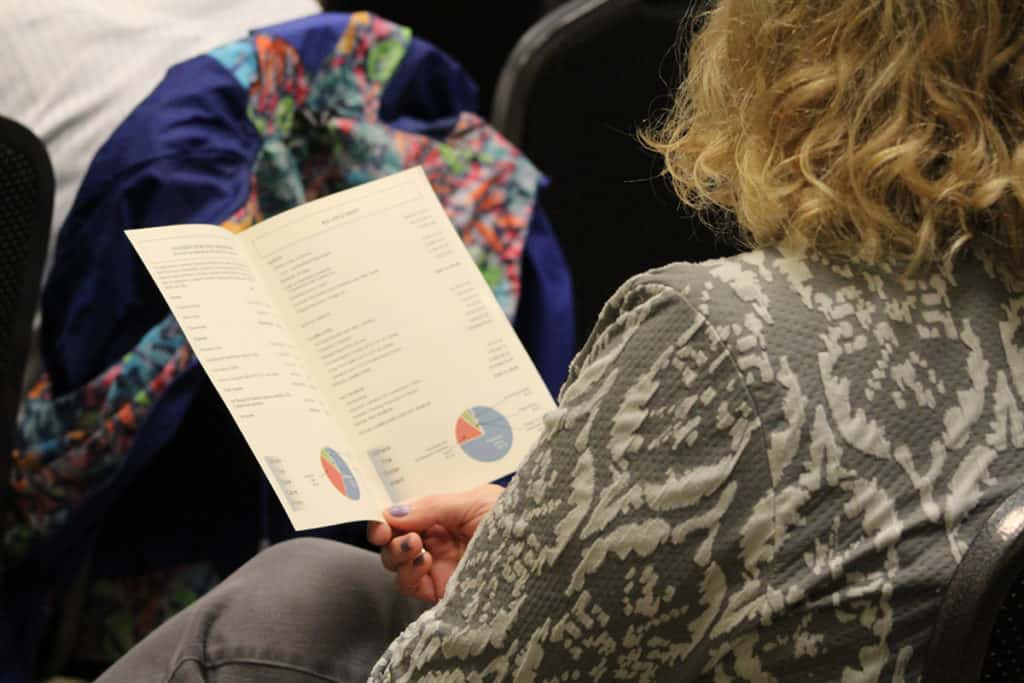 Cooper informed the membership of how the cooperative story began in 1844 in England when a group of people fed up with the high price of groceries pooled their money to buy their own food, forming a new form of business – the cooperative – which led President Roosevelt to form the Rural Electrification Administration in 1935.
The chairman explained that today there are more than 900 electric cooperatives bringing electricity to more than 42 million Americans.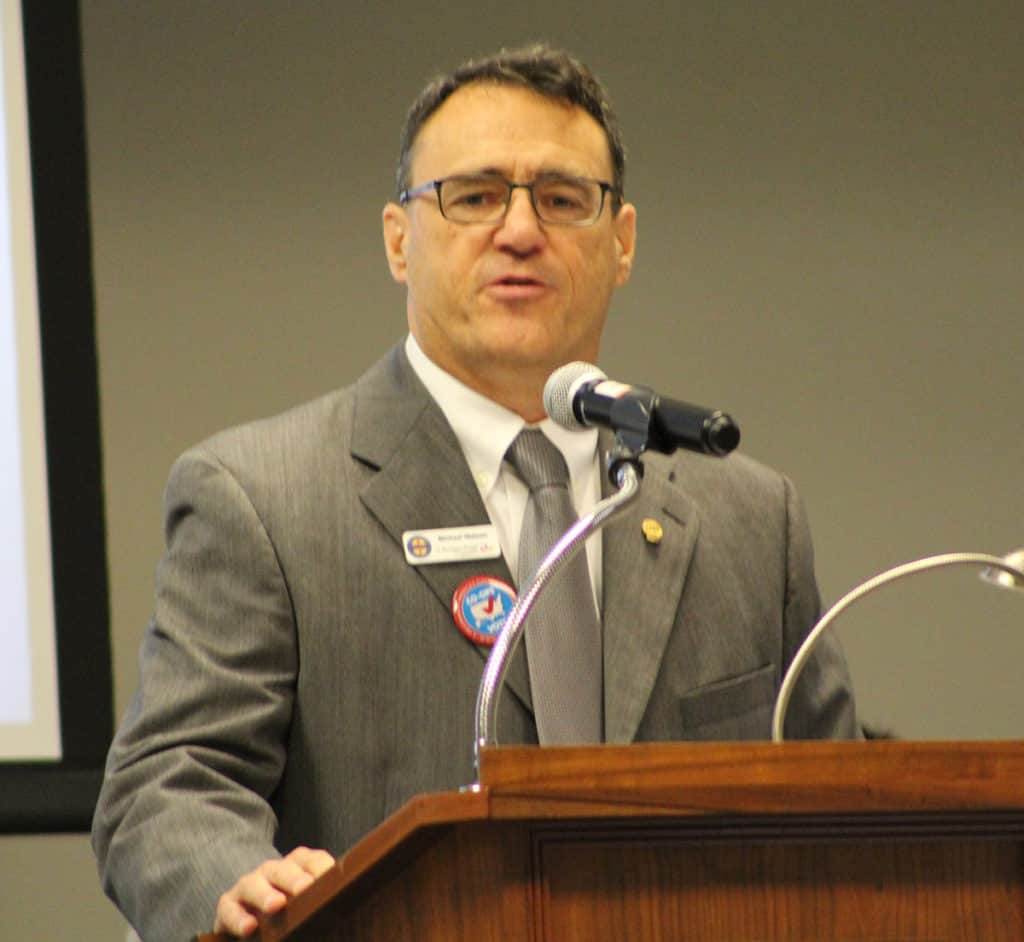 Cooper also discussed how DREMC is trying to stay on the cutting edge of technology and gave a personal example of how the DREMC mobile app helps members pay their bills and keep track of outages even when they aren't home. New technologies are allowing members to be more aware of their energy use. "It's all about the member. You are our neighbors. You are our communities. You deserve every good thing we can do," shared Cooper.
Cooper shared that approximately 8,500 members have downloaded the DREMC mobile app. "We are happy members are using it to make payments, report outages, view the outage map and see graphs of their electric usage," said Cooper.
Cooper explained that advanced meters have been fully deployed in two districts and are currently being installed in the Manchester area. With these advanced meters, members have the ability to see daily usage, and DREMC is able to detect outages quickly, making restoration efforts faster.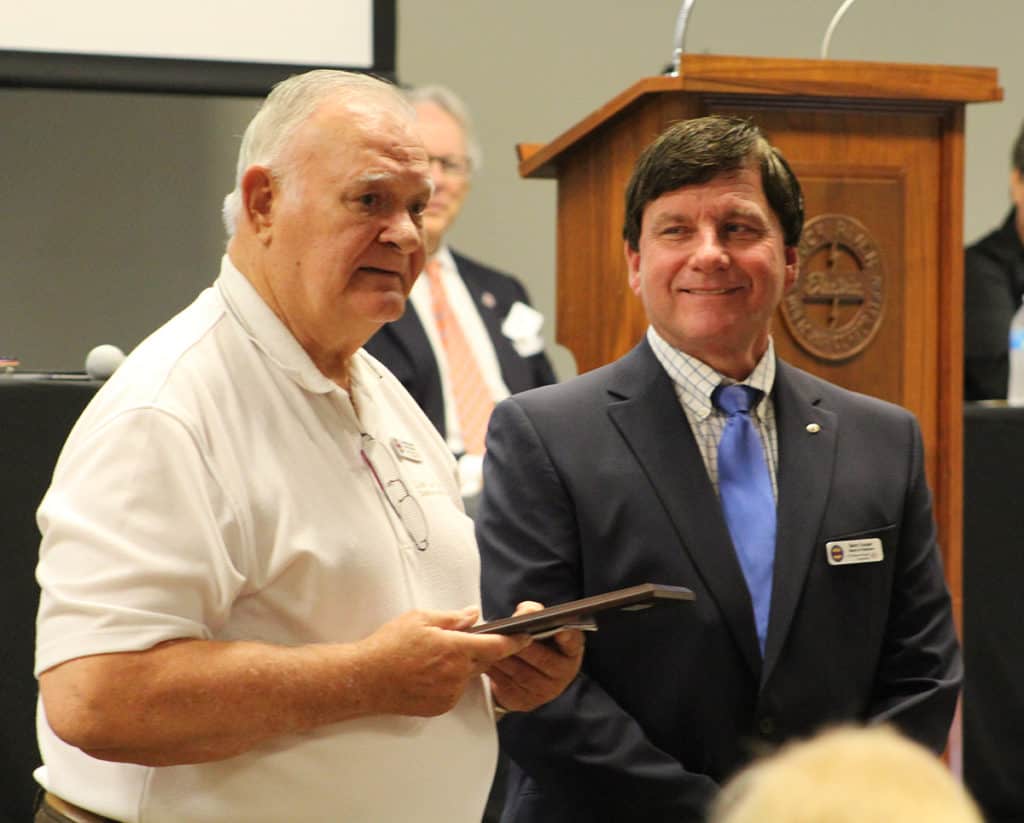 Cooper explained each of the seven cooperative principles. "DREMC always puts members first, one day at a time, that was and is our mission," stated Cooper.
Chairman Cooper closed his remarks by thanking the DREMC employees for their tireless work in keeping the lights on and recognized those that retired this past year with combined experience of 344 years.
President and CEO Michael Watson opened his remarks with the DREMC mission statement – The cooperative exists to deliver reliable electricity at the lowest possible cost, to promote economic development and to improve the quality of life for its members.
Watson discussed how important reliability is stating that the national average for co-op members to be without electricity is 96 minutes. He stated that over the past five years, DREMC members have averaged 84 minutes, and for the past 12 months this has decreased to about 75 minutes.
Watson shared an example of how the technology of an advanced meter enabled one of the districts to determine an outage and have it repaired in a couple of hours. The homeowners were on vacation at the time and never knew there was an outage.
Watson also explained the phrase, energy is cheap, and reliability is expensive, describing how the TVA Allen Steam plant is capable of meeting DREMC's energy requirements almost three times over. At a cost of over a quarter of a billion dollars, the investment was made for the people of the Valley, and all electric consumers should bear their fair share of the cost.
Watson emphasized DREMC's commitment to economic development and the importance of investing in the future with the deployment of advanced meters and fiber optic communications and assured the membership that the board of directors is working hard so that members can have access to true broadband.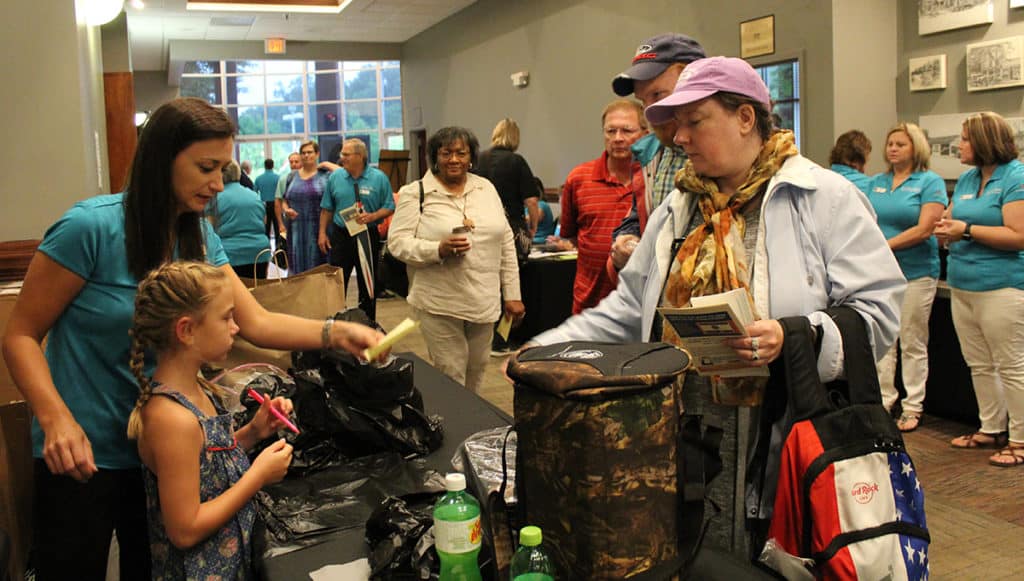 Watson concluded his remarks by discussing the Co-op Connections program and reminded everyone to keep an eye out for the September Tennessee Magazine for their discount cards. He encouraged everyone to download the mobile app for local discounts and other deals.
Treasurer John Moses said DREMC is financially strong, with assets of just under $249 million and total income of more than $198 million. Revenue was up from fiscal year 2017 due to a very cold December of 2017 and January of 2018 as well as a warmer than normal spring of 2018. Moses noted that the co-op maintains a healthy equity ratio of 45%.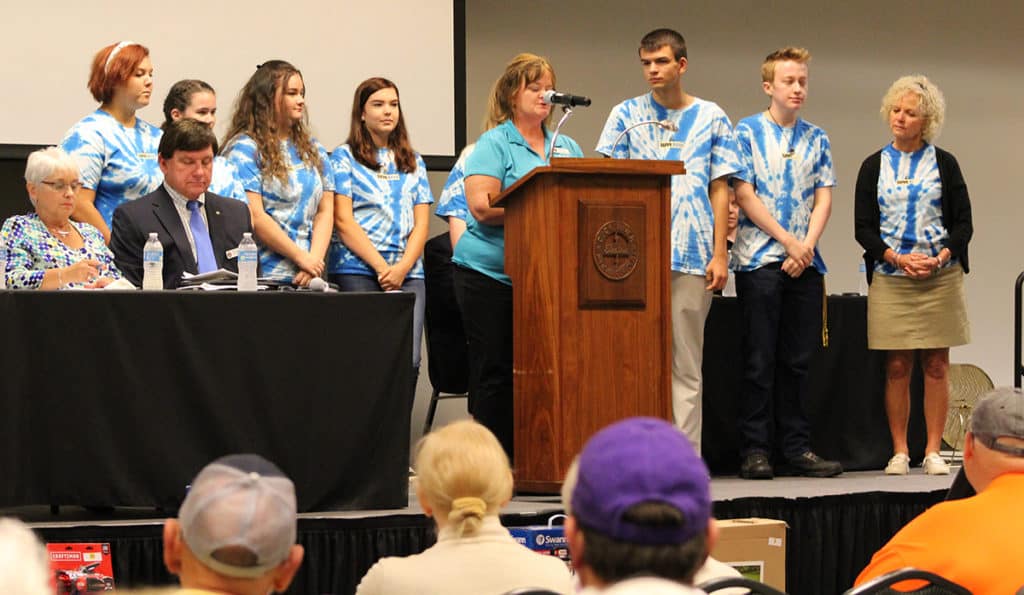 The 2018 Washington Youth Tour winners were introduced, and the door prizes were awarded after the business session.